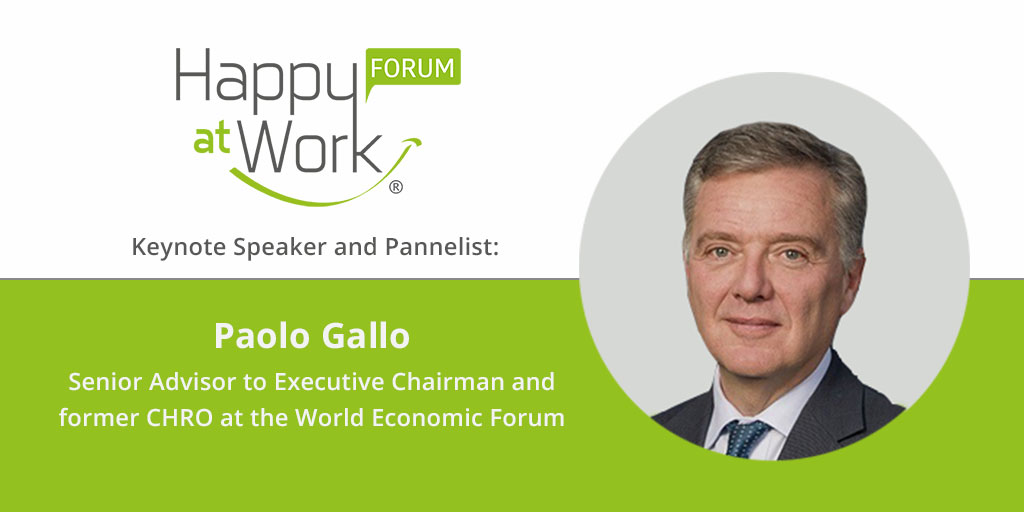 The Happy at Work team is excited to be launching Geneva's first annual Happy at Work Forum on May 15th.  This exclusive, 3-hour event brings together Learning and Development Leaders from across the globe so you can gain knowledge, practical ideas, and energy to grow your business.
To get a more inside look at our speakers and content, we're delighted to feature this Q&A with Paolo Gallo, Senior Advisor to Executive Chairman and former CHRO at the World Economic Forum.  Paolo is the author of The Compass and the Radar: The Art of Building a Rewarding Career While Remaining True to Yourself (also available in Italian on Amazon) and he is a certified Transformational Coach.
A special thank you to Paolo for his time and insights!
To learn more from Paolo and to have your questions answered directly, join us on May 15th at the Happy at Work Forum.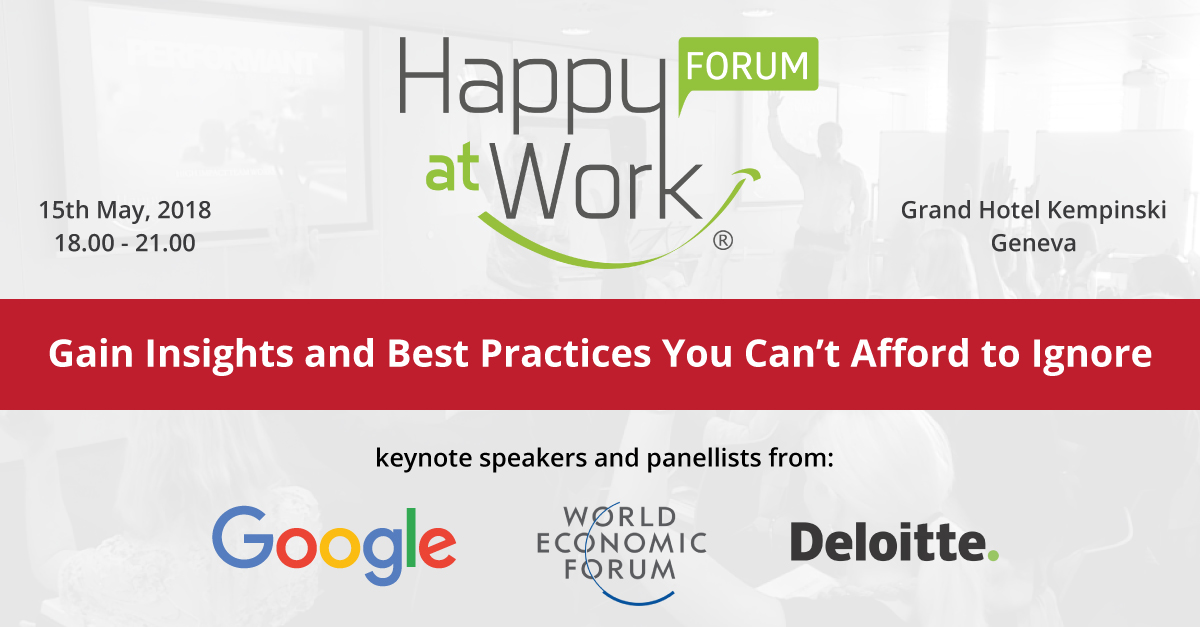 Happy at Work: In today's competitive and complex business environment, why do you believe that leaders should focus on their people in order to achieve sustainable business growth?
Paolo Gallo: For starters, I believe that the competitive advantage of the organizations is based on its people.  People are at the centre of what makes an organization work or not work.   The happiness and satisfaction of your people have direct impacts on your organization's ability to achieve sustainable results.
For example, during a recent holiday, I noticed two B&Bs rated on a website.   At first glance, the B&Bs looked very similar.  Each had 10 rooms, were located within the same building, had similar accommodations, and were relatively the same price.
The only difference was that one B&B had outstanding ratings, 5-stars.  This 5-star B&B was even rated much higher than the large, very popular chain hotels in the area.  The other B&B had a very poor, 2-star rating.
I was curious as to why the ratings were so different.  So I stopped by each place and within one hour, it was crystal clear – it was the people!
The 5-star B&B's staff was kind, attentive, passionate, and thus their capabilities to perform their work well-exceeded that of many other hotels I have seen.
As a potential customer reviewing the B&Bs from the outside, you fundamentally understand that both B&Bs offered the same product.  But the true differentiator was the people!  It was the B&B's people that ultimately affected the customers' experiences and rating of the B&B.
In today's competitive and complex business environment, the capacity to motivate, engage, and train your people will be key drivers to success…regardless the organization's size.
Happy at Work: That's a great example.  How would you respond to someone who might be thinking: "Well, that's a clear example for a service-based business, but we have a product-based business.  So our people do not directly communicate with our customers."
Paolo Gallo: Even for those who provide products, research now shows that how an organization treats their employees has great effects on the quality, innovation, and success of the products themselves.  This holds true no matter what type of product you produce.
When you have happy, engaged, and committed employees, their connection to your end-customer or consumer is much stronger, thus your employees have a greater drive and ability to produce solutions that satisfy their customers' needs.
Happy at Work: That's interesting; can you give us an example?
Paolo Gallo: Certainly.  When I was at the World Bank, we had a very high job satisfaction with employees who worked "in the field" such as those who were working directly in developing nations we served.  On the other hand, we would see lower job satisfaction with some employees who were working from World Bank office locations, such as in Washington, DC.
This seemed a bit strange to us, because looking in from the outside, one would naturally think that the employees who were working in the field would have a much tougher working environment vs. employees working in cosy offices.
After some research, we found that employees working in the field felt closely linked to the purpose of their work, because they were physically building and/or supporting the developments of hospitals, schools, etc.  World Bank employees in office locations did not have this close link to their work.  They felt a bit 'far' from the field activities and as such might not always keep our beneficiaries (our customers) in mind.  In order to increase their job satisfaction and their performance, we needed to find ways to make closer links between an employee's work and purpose.
This example also relates to a much larger issue that we're seeing in human capital management.  L&D leaders need to remember the reason why people choose a particular job.  This is a huge area that HR is missing or forgetting at this moment.
Happy at Work:  Finding a connection between your purpose and your work is a theme you bring up in your book, The Compass and the Radar: The Art of Building a Rewarding Career While Remaining True to Yourself.  Why do people need both a compass and radar when building a rewarding career?
Paolo Gallo:  Your compass is related to your values system.  Your compass helps you decide what is important to you and what you believe in.  Fundamentally this is your moral compass that guides you when making your choices.
You also need a radar.  Your radar allows you to understand the dangers and opportunities when you enter a company or a situation.  Your radar gives you a sense to rate or decode the situation and the culture of the organization.
When choosing a job, you will need to bring both your compass and radar to evaluate the company and its fit with you.
It's sort of like choosing a wife or husband.  Before you get married, you want to know the values and personality of your potential spouse.  Well the same goes for job as well!
My book is designed to help readers first evaluate who they are and then how to use this information to understand what type of organization or best suits them.
Happy at Work: Can you provide us with a simple step that we can take to help ensure our personal values align with a company?
Paolo Gallo: For example, let's say you are someone who believes in promotion through a company based on merit and skills. Now think about the organization you work for or are about to work with, and ask yourself:
How did senior leaders or managers get to their position?
What are their qualifications? Their skills?
Do you know them?
Try to understand the organization better.  If, for example, you have found that managerial and executive roles were mainly filled by "being friends of the CEO," then possibly this organization is not a good fit for you.
Happy at Work: Where should HR leaders start if they are working to change the values of their company?
Paolo Gallo:  Leaders should first look at their recruitment process and the values of the candidates.   It is important that companies look at the values of the individual, because those are personal.  Goals change all the times but values remain more consistent.
For example, if a candidate's resume and interview is filled with "I" and "me" vs "we" and "our team," then this can be a glimpse into some of their values.
Then later, training and learning and development are important.  Additionally I have found that leadership development, especially through leadership coaching, is a relevant instrument.
Happy at Work:  Thank you again Paolo for your time and looking forward to talking with you at the Happy at Work Forum on May 15th!